Sorry that this is a bit late but I did start to write it on December 1st when I was woken that morning with Christmas music coming from ClassicFM indicating it must be the beginning of the season which usually is celebrated with family gatherings! Whatever happens this year, if you are in contact with family or friends why not discus what you have discovered about your ancestors and find out whether your research matches their memories or what they have been told?
Family Heirlooms
I have a christening robe reputed to have been made by my great grandmother, Sarah ELLY, shortly after her marriage in Bath in 1860. It has been used by several members of our family, descendants of Sarah ELLY, although not always appreciated by the child!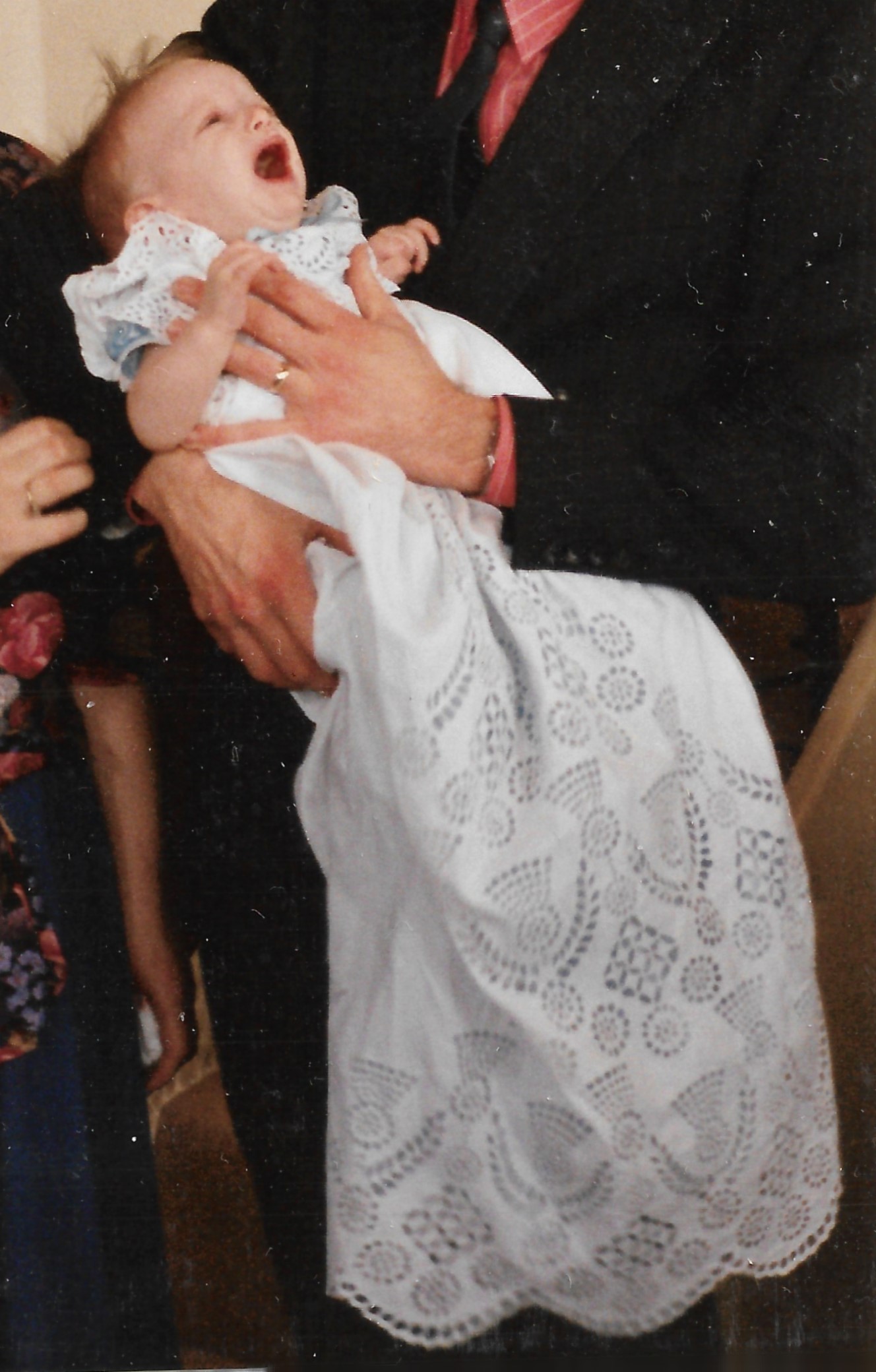 My grandmother told me that her mother made this robe and that she had been educated at the Blue Coat School in Bath. However, I have recently confirmed that no one with the name Sarah ELLY or anything similar is mentioned in the Record Books of the Blue Coat School in Bath – so it seems that my grandmother was mistaken about the school but hopefully not about the christening robe.
There is often a grain of truth in stories which are handed down and, in this case, – I have now established that one of my grandmother's brothers was educated at the Blue Coat School in Gloucester so perhaps she was a little confused.
How many of you regard your Christmas Decorations as family heirlooms? Rather than being fashionable all my Christmas tree decorations have a story to tell as they have accumulated over the years. Carefully preserved each year they bring back memories to me of the days when my children and grandchildren were small and they helped to chose the one new item each year.
Do you have any interesting family heirlooms?
The popular BBC programme, Repair Shop, has produced some very fascinating items and stories attached to them. Your family heirlooms could make a worthwhile article for Buckets and Spades and often shed light on your ancestors. What do you have which you would like passed down?
My teddy bear given to me for my 2nd birthday in 1940 could tell a few stories - about comforting me when watching German planes fly over Bristol during the Blitz, accompanied me to the Anderson Shelter during subsequent raids, a constant companion during children's ailments meaning that he had to be send away to be fumigated along with all other soft furnishings (he lost his squeek then!) A couple of years ago I decided he needed some new clothes but he has worn very well from the time I first unwrapped him on my birthday in my Grandfather's house to the accompaniment of a Warden shouting "Put that light out"!
Who do you think you are?
I have watched Ed BALLS in "Who do you think you are?". It certainly pointed up the difficulty we all have in relating to events which happened over 100 years ago and looking at them from the 21st Century with its ever-changing acceptance of standards of behaviour and conditions. The Swing Riots of the 1830s and their aftermath highlighted the conditions of agricultural workers in the south east of England.
Workhouses
I was of course particularly interested in the mention of the Workhouses. One problem I had with it was the use of images to illustrate conditions. The interior view used was from a London Workhouse as was the painting of the queue outside. Were there no images of Kent or Norfolk Workhouses which could be used?
A great deal of research has been done about conditions in Norfolk, which were slightly different from other parts of the country. Anne Digby in her book "Pauper Palaces" describes the arrangements made prior to the Poor Law Amendment Act of 1834 to cater for the poorer elements of the population in Norfolk where Workhouses were introduced after the Gilbert Act of 1782. This allowed parishes to join together to cater for the paupers in their area. Bristol also had an earlier Act of Incorporation in 1696. This gave the Bristol Corporation the right to operate a joint relief system across the whole city and its many parishes including the setting-up of workhouses and the appointment pf paid Officers. Sadly, many of these records were lost during the blitz. It is often supposed that the the Union Workhouses created after 1924 were the start of the Workhouse system but this was not the case.
The web site about the History of the Workhouse is an excellent place to discover more about the workhouses in the area wherever your family lived.
How do you tell others about what you have researched?
Family History Blogs
One of our members, Honey Langcaster-James, who is descended from one of the Weston Worthies, Richard FRY, has this Blog which includes some history of the Weston area which you may not have seen. It is a fascinating site, Congratulations Honey, which may give you some ideas of how to publish your own findings online. Her site is called Meet My Ancestor,
Family Trees Online
Most of you will be familiar with the many sites where you can find family trees online.
Some can be restricted to being available only to invited viewers who have a reason to be consulting them.
Always check any details on these trees as errors can occur.
If you have placed your findings online, please let us know so that others may see it and perhaps get ideas of what is possible.
1921 Census
It has been announced that you can examine this census free of charge (via Findmypast) if you visit the National Archives at Kew and also In addition, visitors to the Manchester Central Library

and the

National Library of Wales

will be able to access the 1921 Census of England and Wales via the Findmypast website for free following its publication in January.

This may be useful to members who live near either of these places.
The 1921 Census release will be augmented by a series of articles and exhibitions at the National Archives about life in the 1920s.
Digital Exhibition
In line with Disability History Month, the Somerset Museum in Taunton is launching a digital exhibition about Sarah BIFFIN, the talented Somerset artist[PH1] . Sarah Biffin – South West Heritage Trust (swheritage.org.uk). There are other digital exhibitions which may interest you on this site Digital Exhibitions – South West Heritage Trust (swheritage.org.uk) including one about the Bath and West Agricultural Society and its shows.
Research Queries
I have had a query about Joseph SHEPPARD 1834-1928, who painted the portrait of John Jeremiah Jackson-Barstow which I used in my talk after the AGM.

He lived in Milton (in the parish of Kewstoke) and more of his paintings can be seen on the Art UK web site

Sheppard, Joseph, 1834–1928 | Art UK

There are 21 paintings, including a couple of his father, Henry SHEPPARD 1792-1877, other local people and some views of Worle and Milton.

In 1911 Joseph SHEPPARD was living in Ashcombe Park Road with his long-time housekeeper, widow Elizabeth PETERS. When he died in 1928 he was buried at Kewstoke.

Another query I have received was about the locality of a Baptist Church near Rowberrow.

I was unable to answer so I put it on our Research Forum but presumably none of our members knew the answer either as there were no replies.

Does anyone have any idea about where a Baptist resident of Rowberrow might have attended

church?

I have found from my own family research that Baptist Records are notoriously difficult to locate as in many cases the registers seem not to have survived or have fallen into private hands.

I get many queries about schools in Weston, especially the private ones which proliferated during the 19th Century. Often an ancestor has been found as a pupil. A very brief history of Weston

can be found here and the private schools are mentioned under "More growth in the 1880s". More information can be accessed in Weston Library where many of these schools have files about them. One problem was that information about a school had been handed down in a family and it was eventually found under Weston, Bath!
Our December Members' Meeting
It has been widely announced but a reminder that we are restarting to have physical meetings after a long spell of Zoom meetings. The first one will take place on Wednesday December 8th in the afternoon from 2.30 p.m. until 5.00 p.m. at Our lady of Lourdes Church Hall in Baytree Road. The speaker, Ian Sage will start his talk on Farler's Coal Pit at Nailsea at 3.00 p.m. which will include his own family history research. If you are unable to attend the talk will be screen at the same time and will be recorded and available as the Zoom talks have been for Members to watch at a time convenient for them. Please observe the conditions in place to control possible infections and enjoy this Christmas meeting with seasonable refreshments served from 2.30 p.m.
Our Lady of Lourdes - from Google Street View - there is car parking also at the back of the hall.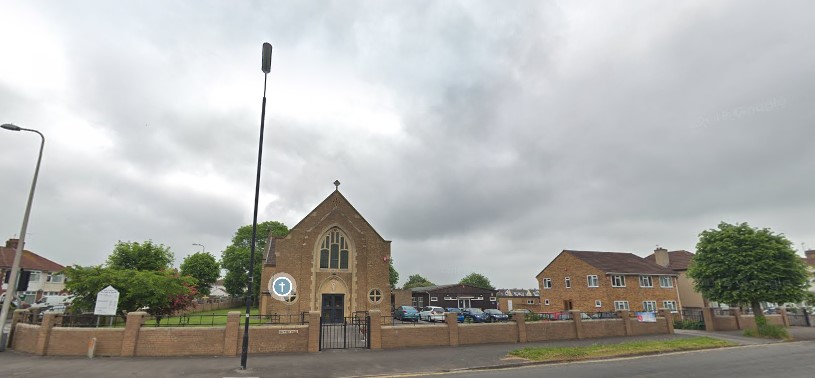 2022
Looking forward - Society meetings will continue to take place on the 2nd Wednesday afternoon of each month during 2022.
Wishing you all an enjoyable time during December. If you have any queries please use the Research Forum and make sure that all your SURNAME interests have been added to the list. If you have any comments or suggestions to help other members' research please add them to this Newsletter. Happy & Heathy wishes for December and the New Year!