All Fools Day! What does that mean to you? I think it was Abraham Lincoln who said, "You can fool all the people some of the time, and some of the people all the time, but you cannot fool all the people all the time". He must have seen some of the Family Trees which have been posted online!
I know we can all make mistakes in compiling trees but to mindlessly add information from another tree without checking it out is foolish to say the least. These days, when DNA testing is another tool available to researchers, hints are often suggested based on similar names in other published family trees and this can cause no end of frustration and hours of fruitless research where the other tree is suspect.
Zoom Meeting in March
We had a very interesting Zoom talk in March by Chris Reid from the Weston LDS Family History Centre who explained some of the benefits to be gained from using FamilySearch, a completely free site. You do have to sign in but there is no charge. I come from a generation of researchers who cut their teeth on the extremely helpful IGI, (International Genealogical Index) searching through fiche after fiche to find christenings and marriages with very few burials available. I did order some films which I was able to see at the Bristol Wells Road Family History Centre, but Somerset records were limited – said to be due to a Bishop of Bath & Wells who did not allow the filming of the C of E Registers. This has now all changed and the number of records available on this site matches if not overtakes other Commercial Sites and has some with images. But I have to admit that although I did have a great deal of help from a school friend who is a member of the LDS when the enhanced web site came online, I have never really used it as my first port of call. I have not made myself familiar with all that the site has to offer and although I had put the start of a tree on the FamilySearch site I did not look at it very often.
Yesterday, March 31st, when I looked at FamiySearch I found that additions have been made to my tree in a place where there has always been a stumbling block. The parents of James MILLARD who married a Jane PARFREY in Axbridge in 1787 (my husband's 3 x g grandparents) are now, according to the tree, Leaster and Ann MILLARD of Banwell. It is possible but where is the proof? There are several other contenders for the role of parents and I am looking for some sort of proof before committing them to a tree. Chris Reid did talk about the collaborative trees – I'd be interested in your comments. There is an article about how to correct trees on FamilySearch How to Correct Mistakes on the FamilySearch Family Tree | LDS365: Resources from the Church & Latter-day Saints worldwide which also gives the benefits of having such a tree.
Wedding at Holy Trinity on 3rd May 1945 - just 5 days before VE Day

Back in 2012 we were contacted by an American, Nan Turner, who was researching information about her father's time in the USA Army when he was billeted in Weston-super-Mare in 1944/5. We placed an item on the Research Forum for her with a picture of a Wedding which took place at Holy Trinity in Weston. Although nobody replied to the site we were later able to help her with some information which she has now incorporated into a web site which includes more photographs of their stay in Weston. Her father was a member of the 1270 the Engineer Combat Battalion this link will take you to her web site - you will need to scroll down a little between the photographs to enter the site. Go to Weston-super-Mare in the left hand menu. She is still interested in identifying members of the Wedding Photo. Her contact details can be found on her web site. See also the original Research Forum Entry and another one in 2018 with more response.
Family History Federation - Really Useful Show
As a member of the Federation we will be included in the Really Useful Show on April 10th. There is still time to buy a ticket for this online Show with a variety of excellent speakers.
Buckets & Spades
The March edition of Buckets & Spades is now available to full members. Thank you to all who contributed to it, to Sue Maguire, who edited it and to Paul Tracey who oversees the distribution. There are some very interesting articles in it, several with a military flavour, while others covered other aspects of family history research. There is also a brief mention of resources held by Brian Austin whose contact details are on the web site.
Transcriptions
Graham is busy adding more transcriptions - today Biddisham MIs. Here's just an example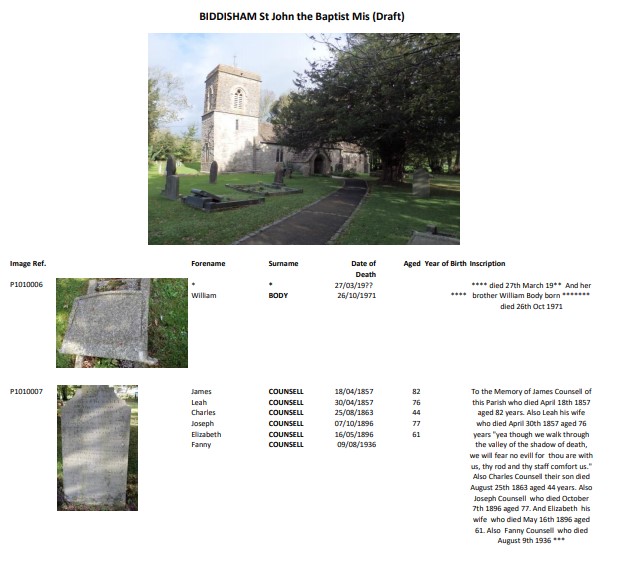 The MIs, like all the parish registers are so easy to search by using "find on page" and give a marvellous amount of information.
Membership
We are delighted to note that our membership numbers have kept up during the past year but are still puzzled about why we are not getting any entries in the Research Forum. At a time when contact between members as been curtailed are there other ways in which we can we help other members in their research? We encourage you to raise topics about your research whether it is based in Weston or not - most of our local members have family from elsewhere and I know that we have members with a tremendous amount of knowledge who could help others.
Facebook Group
We now have 331 Members. It is difficult to know how many are actively researching their families or are thinking about it or are more interested in the locality but all are welcome. Queries posted to the group are usually answered within a day and we keep a file of SURNAME Interests which allows members to see if someone else is interested in the same surname. We have had some interesting discussions and some brickwalls have been knocked down.
When someone asks to join this private group they have to answer a question before being admitted. Unfortunately, there have been several occasions where this question has not been answered and in spite of trying to contact them we have received no answer and therefore they have not been admitted to the group.
We do encourage full membership of the Society as the very low subscription rate of £9.00 per year brings with it our interesting Journal Buckets & Spades, the transcriptions and other items available only to full members and admission to our Zoom meetings - there is an additional entry fee when we meet in a Hall.
Zoom Meeting Thursday April 15th at 7.00pm
Although lockdown restrictions are being gradually lifted and those of us who have been shielding are now able to leave home I suspect that it will still be some time before our monthly meetings will be able to resume. At our first Zoom Meeting it was interesting to see those members from further afield who have not been able to attend in person before, so there is a silver lining to the cloud which is still over us! Our next meeting is due on Thursday April 15th at 7.00pm when I will be the speaker, talking about researching "Clara's Cottage and Burlington Street" in Weston, the site of the Weston Museum.
You will receive an email with instructions on how to join each meeting, if you didn't receive one last month check that the email which we have for you hasn't been changed recently. There are several videos available on how to join Zoom for the first time – this is just one of them which might be helpful.
Any Other Business!
If you have any information to add to this newsletter or comments about any of the items please use the Comments Facility at the bottom of the page. Have a Happy April!