Another month has passed, and the Society is now seriously planning for the future, post pandemic. As a result of the answers to the questionnaires the committee has decided to restart actual members' meetings on Wednesday December 8th at a new location.
Society Meetings
These meetings will take now place at Our Lady of Lourdes Church Hall in Baytree Road, on the 2nd Wednesday of each month in the afternoons from 2.30 p.m. until 5.00 p.m. This is in response of requests from members for daytime meetings rather than evening ones.

Arrangements are being made for the speaker to be recorded and the talk paced on our web site for those who are unable to attend the meetings.

It is a first for us to have a meeting in December and we will celebrate with seasonal refreshments and a raffle.

Please bring any

contributions you may have as prizes for the raffle.
On Thursday October 21st at 7.00 p.m. Alan Clark will be talking via Zoom about "The Temperance Movement in and around Bristol"
On Thursday November 18th at 7.00 p.m. we will have a Zoom AGM covering the last two years
The September talk by Grace RUBERY is now available to view from our Web Site.

Once you have signed in, look for Videos under your name on the main menu.
Online Courses
Starting on October 7th is a 4 week Online Introductory Course for Family History

It is being run by the Family History Federation with a signing on fee of only £10.00 and will cover a vast range of research aspects.
Bristol University is also offering an 8 week online "Introduction to Genealogy" starting on the 26th October. This course will cost £140.00
FamilySearch Digitalisation
This has been announced from Familysearch and as a free resource for family historians it should not to be overlooked. This project to digitalise their micro film collection means that you can find images of census records, parish records and many older Court records online. It is not always easy to find a particular parish but is worth the effort. Some of the records can only be seen at LDS Family History Centres but there are a large number available for the public. Images can often solve the problem of faulty transcriptions. For example, although not found on FamilySearch, - The 1841 census of Rodney Stoke reveals the relationship between John and George CASELEY who are mentioned on the same Grave Stone Memorial in the churchyard of St Leonard's Church, Rodney Stoke.

George CASELEY has been entered under occupation as "Brother living with one". This has been deleted by the enumerator so that does not appear on any transcription, but it gave me the relationship between John and George.
T.V Programmes
Our Lives
As part of ongoing series of programmes entitled BBC - Our Lives, Series 5, Finding My Family which celebrates the diversity of lives in the UK, at 7.30 p.m on the 11th October BBC 1 will broadcast one which covers the search about "Finding My Family" about a baby girl who was abandoned at birth Manchester.
Who Do You Think You Are?
This ever-popular programme starts another series on Tuesday October 12th on BBC 1 at 9.00 p.m. when the subject will be Josh WIDDICOMBE A preview of this series with all the participants can be seen here. It is amazing to realise that this programme has been running for 18 series over the past 10 years. You can still watch 50 of these previous programmes on iplayer
A House Through Time
The current series has now finished but is still available on iplayer. I think that this time it was less about the house in question but, situated where it was, it was much more about the mainly middle-class families who lived there over the years, their interests and the contacts which they made – some of whom probably never visited the house. There were some lodgers there just after the second world war, when a widow was living there who needed to augment her income. It was only fairly recently, in the 1990s, when for a time, it became a home for a number of students that it ceased to be a family home.
Trace your own "Home Through Time"
Inspired by the BBC series I have been looking at a building in Bristol which was the home between the 1840s until the 1870s of my great great grandfather and his family. You may have seen a query I place on our Research Forum Weston-super-Mare & District Family History Society (wsmfhs.org.uk) about it. Although my family were only there for a time in the mid 19th Century the house which was a timber-framed Elizabethan Building has records in the Bristol Archives dating back to 1624. The building was demolished after a 1942 Bombing incident involving 3 loaded buses and I can remember the concern in my family not only for the 48 lives lost at that time (my mother knew some of them) but also because of the house which my grandfather knew and had been taken there after it left the hands of the LONG family but was still looked upon as the ancestral home. Newspaper archives have been very useful in finding anecdotes about their life there.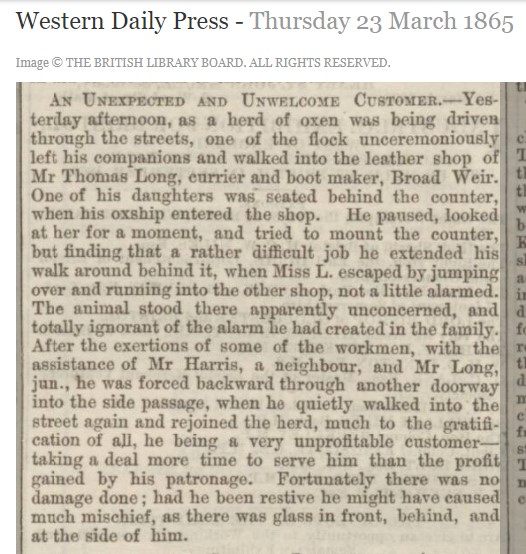 I also noticed that in 1867 the workmen in the employ of Thomas LONG of Broad Weir donated £2.2s to the fund supporting the Bristol Infirmary, and he also asked a neighbour to contribute to the same cause as a way of apologising to him for inferring that he was keeping a brothel! More information about the Bristol Royal Infirmary can be seen here
Returning to 19 Broad Weir - In 1869 my great grandfather, who was then about 20 years old, offered a clutch of Black Red Game Eggs for sale for 7/6d. I wonder where he was breeding these. The following year this advertisement appeared.

Military Research
I have recently been sent the Army Lists for 1816-1915 and am willing to look up anyone who members may think would be helpful for their research.
The Autumn
Our ancestors were probably more aware of the traditional celebrations which marked the change of seasons
We passed the Autumn Equinox on the 22nd September and now the nights are longer than the days in this country.

Michaelmas

, or the Feast of Michael and All Angels, is celebrated on the 29th of September every year. As it falls near the equinox, the day is associated with the beginning of autumn and the shortening of days…

Throughout October Harvest Festivals

Harvest Festival - the facts, customs and traditions (projectbritain.com)

will take place on the Sunday nearest the first full moon after the Autumn Equinox which this year will be Oct 3rd
Diwali

When is Diwali 2021? Start date, meaning behind Hindu festival of lights and how it's celebrated (inews.co.uk)

occurs each Autumn for Hindus and others when lights brighten the days.

As the name suggests, temples and houses observing Diwali are very brightly illuminated to celebrate the victory of light over darkness, good over evil, and knowledge over ignorance.

This year it will be in early October.
Halloween,

History and Traditions of Halloween in Britain | Historic UK (historic-uk.com) the night of October 31st

which many in this country think of as an American tradition, dates back to historic times and can be associated with Celtic customs
Autumn is also the time which, when the days are shorter, families have more time to think about their ancestors and how they lived.

If you are starting your research or are puzzled about an elusive ancestor why not use our Research Forum or make sure that your SURNAMES have ben added to the Surname Interest list so that others can contact you?
Looking forward to the talk in October about Temperance. Am I correct in believing that the Albert Hotel on the Sea Front was a Temperance Hotel?
If you have found anything in this newsletter helpful or you would like to add to or question anything to it please use the comments facility.