News & Information (Monthly Update)
December 2021 Newsletter
published by Pat Hase on Fri, 03/12/2021 - 12:46
Sorry that this is a bit late but I did start to write it on December 1st when I was woken that morning with Christmas music coming from ClassicFM indicating it must be the beginning of the season which usually is celebrated with family gatherings! Whatever happens this year, if you are in contact with family or friends why not discus what you have discovered about your ancestors and find out whether your research matches their memories or what they have been told?
Family Heirlooms
I have a christening robe reputed to have been made by my great grandmother, Sarah ELLY, shortly after her marriage in Bath in 1860. It has been used by several members of our family, descendants of Sarah ELLY, although not always appreciated by the child!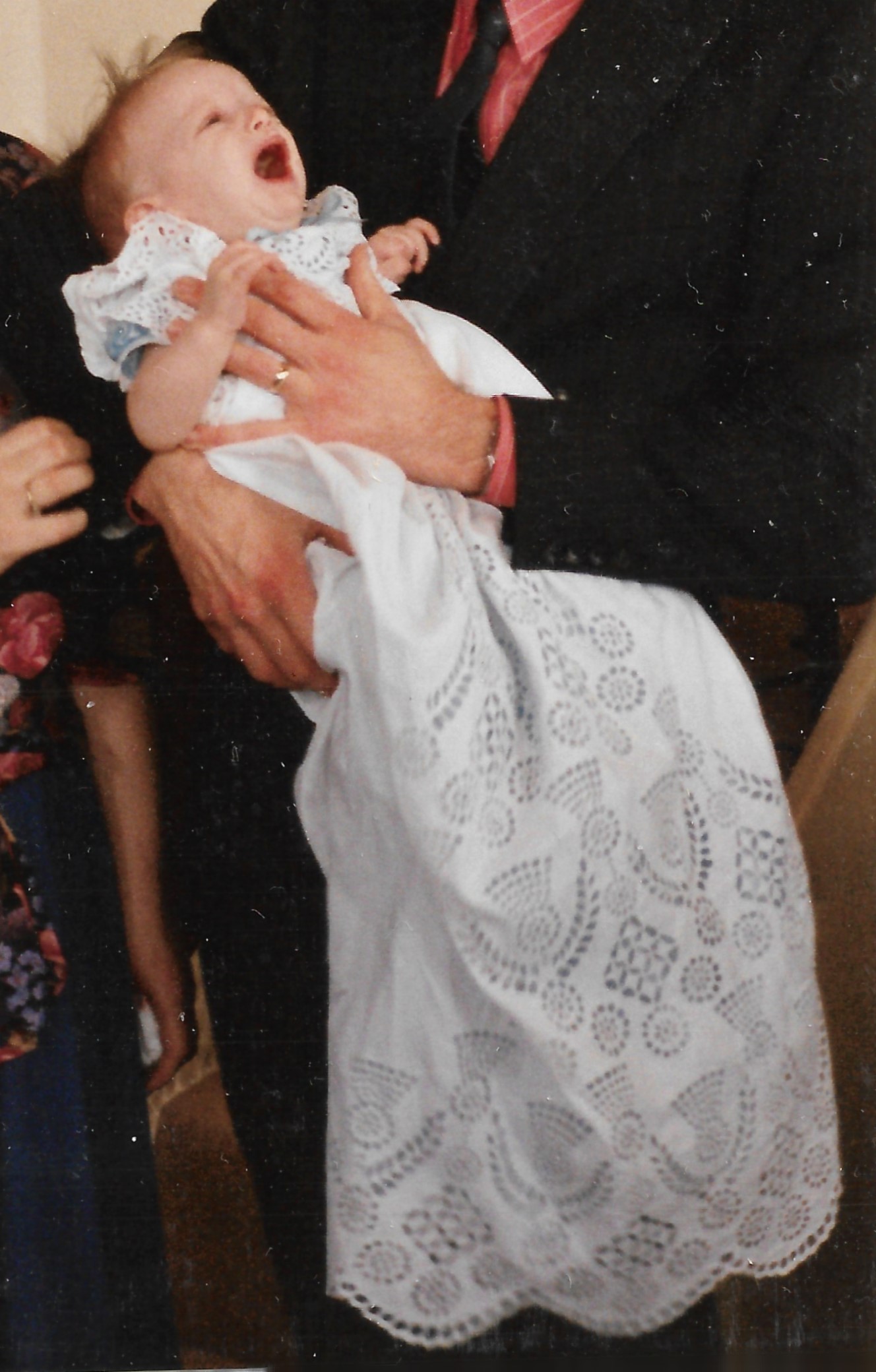 My grandmother told me that her mother made this robe and that she had been educated at the Blue Coat School in Bath. However, I have recently confirmed that no one with the name Sarah ELLY or anything similar is mentioned in the Record Books of the Blue Coat School in Bath – so it seems that my grandmother was mistaken about the school but hopefully not about the christening robe.
There is often a grain of truth in stories which are handed down and, in this case, – I have now established that one of my grandmother's brothers was educated at the Blue Coat School in Gloucester so perhaps she was a little confused.
How many of you regard your Christmas Decorations as family heirlooms? Rather than being fashionable all my Christmas tree decorations have a story to tell as they have accumulated over the years. Carefully preserved each year they bring back memories to me of the days when my children and grandchildren were small and they helped to chose the one new item each year.
Do you have any interesting family heirlooms?
The popular BBC programme, Repair Shop, has produced some very fascinating items and stories attached to them. Your family heirlooms could make a worthwhile article for Buckets and Spades and often shed light on your ancestors. What do you have which you would like passed down?
My teddy bear given to me for my 2nd birthday in 1940 could tell a few stories - about comforting me when watching German planes fly over Bristol during the Blitz, accompanied me to the Anderson Shelter during subsequent raids, a constant companion during children's ailments meaning that he had to be send away to be fumigated along with all other soft furnishings (he lost his squeek then!) A couple of years ago I decided he needed some new clothes but he has worn very well from the time I first unwrapped him on my birthday in my Grandfather's house to the accompaniment of a Warden shouting "Put that light out"!
Who do you think you are?
I have watched Ed BALLS in "Who do you think you are?". It certainly pointed up the difficulty we all have in relating to events which happened over 100 years ago and looking at them from the 21st Century with its ever-changing acceptance of standards of behaviour and conditions. The Swing Riots of the 1830s and their aftermath highlighted the conditions of agricultural workers in the south east of England.
Workhouses
I was of course particularly interested in the mention of the Workhouses. One problem I had with it was the use of images to illustrate conditions. The interior view used was from a London Workhouse as was the painting of the queue outside. Were there no images of Kent or Norfolk Workhouses which could be used?
A great deal of research has been done about conditions in Norfolk, which were slightly different from other parts of the country. Anne Digby in her book "Pauper Palaces" describes the arrangements made prior to the Poor Law Amendment Act of 1834 to cater for the poorer elements of the population in Norfolk where Workhouses were introduced after the Gilbert Act of 1782. This allowed parishes to join together to cater for the paupers in their area. Bristol also had an earlier Act of Incorporation in 1696. This gave the Bristol Corporation the right to operate a joint relief system across the whole city and its many parishes including the setting-up of workhouses and the appointment pf paid Officers. Sadly, many of these records were lost during the blitz. It is often supposed that the the Union Workhouses created after 1924 were the start of the Workhouse system but this was not the case.
The web site about the History of the Workhouse is an excellent place to discover more about the workhouses in the area wherever your family lived.
How do you tell others about what you have researched?
Family History Blogs
One of our members, Honey Langcaster-James, who is descended from one of the Weston Worthies, Richard FRY, has this Blog which includes some history of the Weston area which you may not have seen. It is a fascinating site, Congratulations Honey, which may give you some ideas of how to publish your own findings online. Her site is called Meet My Ancestor,
Family Trees Online
Most of you will be familiar with the many sites where you can find family trees online.
Some can be restricted to being available only to invited viewers who have a reason to be consulting them.
Always check any details on these trees as errors can occur.
If you have placed your findings online, please let us know so that others may see it and perhaps get ideas of what is possible.
1921 Census
It has been announced that you can examine this census free of charge (via Findmypast) if you visit the National Archives at Kew and also In addition, visitors to the Manchester Central Library

and the

National Library of Wales

will be able to access the 1921 Census of England and Wales via the Findmypast website for free following its publication in January.

This may be useful to members who live near either of these places.
The 1921 Census release will be augmented by a series of articles and exhibitions at the National Archives about life in the 1920s.
Digital Exhibition
In line with Disability History Month, the Somerset Museum in Taunton is launching a digital exhibition about Sarah BIFFIN, the talented Somerset artist[PH1] . Sarah Biffin – South West Heritage Trust (swheritage.org.uk). There are other digital exhibitions which may interest you on this site Digital Exhibitions – South West Heritage Trust (swheritage.org.uk) including one about the Bath and West Agricultural Society and its shows.
Research Queries
I have had a query about Joseph SHEPPARD 1834-1928, who painted the portrait of John Jeremiah Jackson-Barstow which I used in my talk after the AGM.

He lived in Milton (in the parish of Kewstoke) and more of his paintings can be seen on the Art UK web site

Sheppard, Joseph, 1834–1928 | Art UK

There are 21 paintings, including a couple of his father, Henry SHEPPARD 1792-1877, other local people and some views of Worle and Milton.

In 1911 Joseph SHEPPARD was living in Ashcombe Park Road with his long-time housekeeper, widow Elizabeth PETERS. When he died in 1928 he was buried at Kewstoke.

Another query I have received was about the locality of a Baptist Church near Rowberrow.

I was unable to answer so I put it on our Research Forum but presumably none of our members knew the answer either as there were no replies.

Does anyone have any idea about where a Baptist resident of Rowberrow might have attended

church?

I have found from my own family research that Baptist Records are notoriously difficult to locate as in many cases the registers seem not to have survived or have fallen into private hands.

I get many queries about schools in Weston, especially the private ones which proliferated during the 19th Century. Often an ancestor has been found as a pupil. A very brief history of Weston

can be found here and the private schools are mentioned under "More growth in the 1880s". More information can be accessed in Weston Library where many of these schools have files about them. One problem was that information about a school had been handed down in a family and it was eventually found under Weston, Bath!
Our December Members' Meeting
It has been widely announced but a reminder that we are restarting to have physical meetings after a long spell of Zoom meetings. The first one will take place on Wednesday December 8th in the afternoon from 2.30 p.m. until 5.00 p.m. at Our lady of Lourdes Church Hall in Baytree Road. The speaker, Ian Sage will start his talk on Farler's Coal Pit at Nailsea at 3.00 p.m. which will include his own family history research. If you are unable to attend the talk will be screen at the same time and will be recorded and available as the Zoom talks have been for Members to watch at a time convenient for them. Please observe the conditions in place to control possible infections and enjoy this Christmas meeting with seasonable refreshments served from 2.30 p.m.
Our Lady of Lourdes - from Google Street View - there is car parking also at the back of the hall.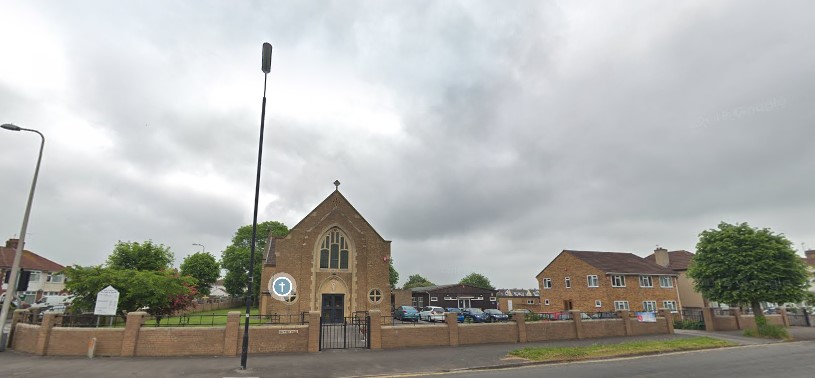 2022
Looking forward - Society meetings will continue to take place on the 2nd Wednesday afternoon of each month during 2022.
Wishing you all an enjoyable time during December. If you have any queries please use the Research Forum and make sure that all your SURNAME interests have been added to the list. If you have any comments or suggestions to help other members' research please add them to this Newsletter. Happy & Heathy wishes for December and the New Year!

1 Comment

login
or
join us now
to post comments
November 2021 Newsletter
published by Pat Hase on Sun, 31/10/2021 - 19:08
Release of 1921 Census
The biggest news in the last month has been the release date for the 1921 Census. It will answer a few queries you may have about your family and their lives just after the 1st World War and no doubt raise more questions. On January 6th 2022, Find My Past will give you access to the last census many of us will be able to interrogate. The 1931 census was destroyed and there was not a census in 1941 during WW2, which is why the 1939 Register has been so helpful. There are several interesting articles online with the background to the 1921 Census including this one from the National Archives which includes information about some webinars it is offering during November to assist your preparation for the release.
New items on Ancestry
During October these new items have appeared
100 Years of Education
The clocks were put back 1 hour last evening. and the autumn leaves are now falling from the trees, bringing back memories of School Days when as small children we collected the multi coloured leaves, pressed them and created collages, incidentally learning to identify trees from the leaves. The recent repeat of the BBC Programme "Back in Time for School" which is still available on iPlayer. featured the changes in education over the years. We have all had experience of some form of schooling and there were parts which made me want to shout at the TV. I went to a mixed Primary School, a Girls' Grammar School and then taught in a Secondary Modern School and there were aspects which did not fully match my experiences or memories of that time.
The development of the education provision in Weston is interesting with a large number of private boarding schools in the area. The first National School opened in Weston 1844/5 was St John's School, on the corner where the College is now, had these rules. The last one is particularly interesting in view of the current situation - this was against smallpox but was compulsory.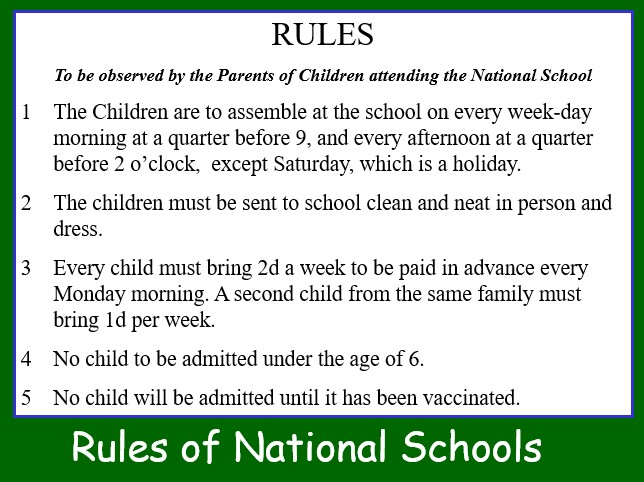 While on the subject of TV programmes - Last month I highlighted that "Who Do you think you are?" was returning to the screens, The Genealogist has some featured articles including some which are reviewing these and other programmes.
Local Scouts
I have temporary access to a brilliant Log Book of the Mendip Rovers which were the fore-runners of the 9th Weston-super-Mare Scouts attached to Emmanuel Church. This handwritten book goes from Sept 1927 until Sept 1943 and contains many local names. There were 4 Founder Members - L.HUMBY, E.ATKINSON, R.POPE and M.STOCKER with Mr R.E.MONK as their "Rover Mate". For many of their activities they were supported by "The College" Troop - 10th Weston under Mr N.G. PARTRIDGE. Their first Camp was at Max Mills Farm at Easter 1928 and they attended the opening of the Hospital in July 1928, acting a Stewards. By Sept 1929 they decided to become a Scout Troup with 2 Patrols - new members named after that included Eric KNOWLES, Reg GRIFFITHS, E.PHILLIPS, Henry ALLEN, J.HENDERSON, R. GARTH, R.WRIGHT, Warwick CASEY and D.WILLIAMS etc. If you have any connection with these or think you may have other links I would be pleased to search for names for you.
Another interesting item caught my eye that in 1940.
"two members of the troop helped St Paul's troop to gather Autumn Crocuses for the Government , cycling to Shipham where they found them growing wild in the fields"
On further investigation I found that large quantities of Meadow Saffron (Colchicum autumnale) bulbs were collected to provide the drug colchicine, used to reduce inflammation. With 12 tones of bulbs needed in WW2, collectors were instructed to gather them from pastures and meadows in which they grew when these were being ploughed up to grow crops.
With Remembrance Day approaching it was sobering to read of the death of Eric KNOWLES, who lost his life at sea while serving as a Ship's Engineer in the Merchant Navy.

The entries stop in 1943 and it appears that the troop was disbanded at that time although there is no actual mention of that.
Society Meetings
On Thursday 18th November we will be holding our AGM via Zoom which will be accompanied by a quiz and a short talk by me about the "Legacy to Weston from the JACKSON-BARSTOW Family".
This will be the last Zoom presentation, as actual meetings will start again at our new meeting place of Our Lady of Lourdes Church Hall in Baytree Road on the 2nd Wednesday afternoons of each month starting on Dec 8th from 2.30-5.00pm. This will be a Christmas Meeting with Ian Sage talking about "Farler's Coal Pit, Nailsea" and accompanied by seasonal refreshments.
Please add any comments you may have about this newsletter or to share helpful advice and information to other members.

4 Comments

login
or
join us now
to post comments
October 2021 Newsletter
published by Pat Hase on Fri, 01/10/2021 - 17:42
Another month has passed, and the Society is now seriously planning for the future, post pandemic. As a result of the answers to the questionnaires the committee has decided to restart actual members' meetings on Wednesday December 8th at a new location.
Society Meetings
These meetings will take now place at Our Lady of Lourdes Church Hall in Baytree Road, on the 2nd Wednesday of each month in the afternoons from 2.30 p.m. until 5.00 p.m. This is in response of requests from members for daytime meetings rather than evening ones.

Arrangements are being made for the speaker to be recorded and the talk paced on our web site for those who are unable to attend the meetings.

It is a first for us to have a meeting in December and we will celebrate with seasonal refreshments and a raffle.

Please bring any

contributions you may have as prizes for the raffle.
On Thursday October 21st at 7.00 p.m. Alan Clark will be talking via Zoom about "The Temperance Movement in and around Bristol"
On Thursday November 18th at 7.00 p.m. we will have a Zoom AGM covering the last two years
The September talk by Grace RUBERY is now available to view from our Web Site.

Once you have signed in, look for Videos under your name on the main menu.
Online Courses
Starting on October 7th is a 4 week Online Introductory Course for Family History

It is being run by the Family History Federation with a signing on fee of only £10.00 and will cover a vast range of research aspects.
Bristol University is also offering an 8 week online "Introduction to Genealogy" starting on the 26th October. This course will cost £140.00
FamilySearch Digitalisation
This has been announced from Familysearch and as a free resource for family historians it should not to be overlooked. This project to digitalise their micro film collection means that you can find images of census records, parish records and many older Court records online. It is not always easy to find a particular parish but is worth the effort. Some of the records can only be seen at LDS Family History Centres but there are a large number available for the public. Images can often solve the problem of faulty transcriptions. For example, although not found on FamilySearch, - The 1841 census of Rodney Stoke reveals the relationship between John and George CASELEY who are mentioned on the same Grave Stone Memorial in the churchyard of St Leonard's Church, Rodney Stoke.

George CASELEY has been entered under occupation as "Brother living with one". This has been deleted by the enumerator so that does not appear on any transcription, but it gave me the relationship between John and George.
T.V Programmes
Our Lives
As part of ongoing series of programmes entitled BBC - Our Lives, Series 5, Finding My Family which celebrates the diversity of lives in the UK, at 7.30 p.m on the 11th October BBC 1 will broadcast one which covers the search about "Finding My Family" about a baby girl who was abandoned at birth Manchester.
Who Do You Think You Are?
This ever-popular programme starts another series on Tuesday October 12th on BBC 1 at 9.00 p.m. when the subject will be Josh WIDDICOMBE A preview of this series with all the participants can be seen here. It is amazing to realise that this programme has been running for 18 series over the past 10 years. You can still watch 50 of these previous programmes on iplayer
A House Through Time
The current series has now finished but is still available on iplayer. I think that this time it was less about the house in question but, situated where it was, it was much more about the mainly middle-class families who lived there over the years, their interests and the contacts which they made – some of whom probably never visited the house. There were some lodgers there just after the second world war, when a widow was living there who needed to augment her income. It was only fairly recently, in the 1990s, when for a time, it became a home for a number of students that it ceased to be a family home.
Trace your own "Home Through Time"
Inspired by the BBC series I have been looking at a building in Bristol which was the home between the 1840s until the 1870s of my great great grandfather and his family. You may have seen a query I place on our Research Forum Weston-super-Mare & District Family History Society (wsmfhs.org.uk) about it. Although my family were only there for a time in the mid 19th Century the house which was a timber-framed Elizabethan Building has records in the Bristol Archives dating back to 1624. The building was demolished after a 1942 Bombing incident involving 3 loaded buses and I can remember the concern in my family not only for the 48 lives lost at that time (my mother knew some of them) but also because of the house which my grandfather knew and had been taken there after it left the hands of the LONG family but was still looked upon as the ancestral home. Newspaper archives have been very useful in finding anecdotes about their life there.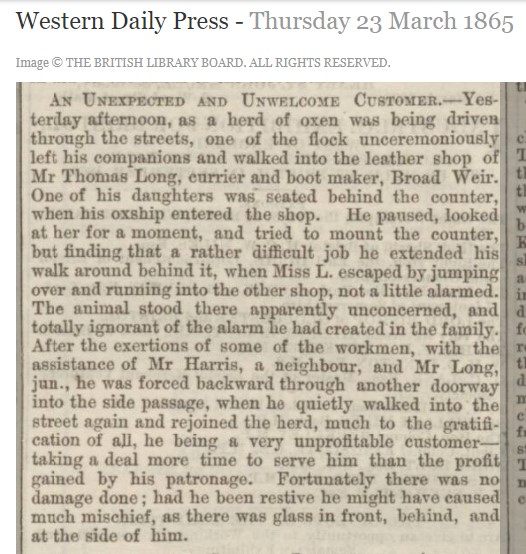 I also noticed that in 1867 the workmen in the employ of Thomas LONG of Broad Weir donated £2.2s to the fund supporting the Bristol Infirmary, and he also asked a neighbour to contribute to the same cause as a way of apologising to him for inferring that he was keeping a brothel! More information about the Bristol Royal Infirmary can be seen here
Returning to 19 Broad Weir - In 1869 my great grandfather, who was then about 20 years old, offered a clutch of Black Red Game Eggs for sale for 7/6d. I wonder where he was breeding these. The following year this advertisement appeared.

Military Research
I have recently been sent the Army Lists for 1816-1915 and am willing to look up anyone who members may think would be helpful for their research.
The Autumn
Our ancestors were probably more aware of the traditional celebrations which marked the change of seasons
We passed the Autumn Equinox on the 22nd September and now the nights are longer than the days in this country.

Michaelmas

, or the Feast of Michael and All Angels, is celebrated on the 29th of September every year. As it falls near the equinox, the day is associated with the beginning of autumn and the shortening of days…

Throughout October Harvest Festivals

Harvest Festival - the facts, customs and traditions (projectbritain.com)

will take place on the Sunday nearest the first full moon after the Autumn Equinox which this year will be Oct 3rd
Diwali

When is Diwali 2021? Start date, meaning behind Hindu festival of lights and how it's celebrated (inews.co.uk)

occurs each Autumn for Hindus and others when lights brighten the days.

As the name suggests, temples and houses observing Diwali are very brightly illuminated to celebrate the victory of light over darkness, good over evil, and knowledge over ignorance.

This year it will be in early October.
Halloween,

History and Traditions of Halloween in Britain | Historic UK (historic-uk.com) the night of October 31st

which many in this country think of as an American tradition, dates back to historic times and can be associated with Celtic customs
Autumn is also the time which, when the days are shorter, families have more time to think about their ancestors and how they lived.

If you are starting your research or are puzzled about an elusive ancestor why not use our Research Forum or make sure that your SURNAMES have ben added to the Surname Interest list so that others can contact you?
Looking forward to the talk in October about Temperance. Am I correct in believing that the Albert Hotel on the Sea Front was a Temperance Hotel?
If you have found anything in this newsletter helpful or you would like to add to or question anything to it please use the comments facility.

1 Comment

login
or
join us now
to post comments
September 2021 Newsletter
published by Pat Hase on Wed, 01/09/2021 - 13:29
John Keats (1725-1821) summed it up perfectly in his "To Autumn". Few of us remember more than the first line – "Season of mists and mellow fruitfulness", but the whole poem evokes the rural atmosphere familiar to many of our ancestors. This time of the year also often heralds a new interest in Family History when conditions favour time which can be spent in research. Since early in 2020 things have been very different and we have had to rely on the availability of online records but, for those who are able to visit, the gradual reopening of Archives and Libraries will be welcomed. Do check before travelling to an Archive that you know all the conditions required to attend. You will need to pre-book your visit to the Somerset Archives and information is available on their web site.
Mercer v Puxton - A Folly of Litigation - 19th Aug.
The Society is very grateful to one of our own members, Anne Lockyer, for her patience and perseverance during a technical problem which prevented her presentation in August from being transmitted. Anne then recorded her talk, and it is available for all members to see at a time convenient to them. Just log in and go to Videos under your name on the main menu. It is a fascinating story and congratulations and thanks to Anne for unravelling her family from the complications of Chancery Records and sharing it with us.
Results of Questionnaire
A precis of the results of the Questionnaire about the future of the Society was posted on our web site If you have further thoughts about its results please add comments or let a member of the committee know. If you said you could give a talk, please contact Jenny Towey and if you said that you would write an article for Buckets and Spades Sue Maguire would love to hear from you. As we have said before - this is your society - what can you do to help others?
All Parishes Covered by the Society
We do need to add more information to the web site about the parishes which surround Weston. We have marvellous transcriptions for them but need more background. I started to add basic information from the 1914 Kelly's Directory for each parish but failed to finish that project. Perhaps now that the Worthies are completed, I will revisit that! Links to Local History Societies covering the same areas could also be included under the Places. I also suggested in a newsletter sometime ago that members could add information about their own connections with these parishes on the Places Pages. I added "My Wraxall Connection" to the Wraxall page and have several others which need finishing. If you have anything which could enhance the website, please contact Paul Tracey who will be able to assist with the uploading.
I knew that my STOKES family of Wraxall were connected with Market Gardening and some years ago I attended a meeting of the Nailsea and District Local History Society which sadly no longer meets, to hear a talk about the importance of market gardening in that area. It covered not only the relevance of market gardens to the diet of the glass makers of Nailsea but also the growing and selling in London of the popular Victorian flower, violets, from the Tickenham area. Other interesting aspects of Nailsea and Wraxall can still be seen on their web site by looking at the Free Pennants N&DLHS - Free Pennant (ndlhs.org.uk) (their journal) and their free ebooks
Market Gardening also featured in the Milton and Worle area until the land was sold for building in the 1960s. Gillian Moore published a book entitled "The Good Earth" about this subject which is available in Weston Library. It gives the background to the development of market gardening in this area in conjunction with the rise of Weston as a holiday resort and highlights the changes in this trade over the years. I wondered whether a copy was in our own library but unfortunately it does not feature. For those who said that they did not know where to find the Library - it's on the main menu, after you have signed in, and you can search for any title. Many of the books have been donated my members and contain useful information - it's not all on the internet!
Re-reading books
Recently I've found pleasure in re-reading books which I have had on my bookshelves for years! When I originally bought them, I probably skimmed through them – from the index backwards – looking for names I was researching! Now I have been reading them properly and have been surprised how useful and meaningful they are in giving an idea of the conditions in which our ancestors lived – whether it was through the Bristol Riots of 1832, the Monmouth Rebellion, as Irish immigrants to this country or America, being transported to Australia, life as a servant, or simply the changes in the ways shopping was undertaken etc. The last being very relevant with the current decline of the High Street.
Society of Friends
As family historians we can spend hours looking for church records, but have you considered that the reason you have been unable to find any is that your family might have connections with the Society of Friends?
To look at Quaker Records you need to understand a little about them. This site - Getting Started is very helpful
The Quaker FHS gives some very helpful advice about the basics of research and a details description of their records can be found here.

An additional glossary of terms which you might find in Wills is also included on this site which contains information which is general and not only connected with Quakers.

As the first building at Sidcot was given to the Society of Friends as far back as 1690 – there is a distinct possibility that you may find Quakers in this area.
Charles Booth Poverty Maps
I know I have mentioned this before but if you have ancestors who lived in London you may be able to trace their road and the conditions in which they lived by using the Charles Booth Poverty Maps. It does take a while to learn to use this site but it is worth the effort.
Family History & Life Stories
Many of us decided to use the Lockdown to write up their own research but perhaps, like me. the time went so quickly that it is still to be accomplished. In January 2020 the U3A published this useful guide which you may find helpful. You will need to scroll down to download it. Although originally written in 2010 this article still holds good and provides some interesting ideas for those of us who still have to complete our family history.
Next Society Meeting
The next Society meeting is scheduled for Thursday September 23rd at 7.0 p.m. which we hope will be free of technical problems.

2 Comments

login
or
join us now
to post comments
August 2021 Newsletter
published by Pat Hase on Sun, 01/08/2021 - 23:29
We're looking forward now to after the Pandemic and your committee is, like committees of other Family History Societies, giving considerable thought to what we should be doing for our members once the current situation is over. You will find a questionnaire included in the July edition of Buckets and Spades and you should have received by email, another, more comprehensive one. Please return both by August 8 th as we are keen to know what it is you want to happen and how you use our current provision. It's your society, let us know what you need from it and the way forward.
Future of Family History
Although not concerned with changes caused by Covid, in 2019 Dr Nick Barrett spoke to the Guild of One Name Studies on "The Future of Family History". Described at the time –
"This presentation reflects on the impact of media and technology on the way we research, share and connect - looking ahead to challenges and opportunities for family history and personal heritage to help improve the lives of individuals and communities"
It can be viewed on YouTube (221) The Future of Family History by Dr Nick Barratt - YouTube The sound is a little off at the start, but it settles down and the questions at the end are also interesting. Do you agree with the points he makes?
Society Talks - Hot off the Press!
Since unable to meet, we have had Zoom talks presented to our Society and today I have been informed that recordings are now available of some of them on our web site for full Members. Log in to the website and look at the bottom of the main menu for your own name, under which you should find the word "Video" which when clicked will take you to a selection of the videos which the presenters have given permission to be recorded. If you missed any of them you will now be able to watch then whenever it is convenient to you.
Please contact us via the web site using the category "Webmaster" if you have any problems.
Buckets & Spades
Once again, the latest edition of Buckets & Spades is full of articles of interest. I really enjoy reading about how other people have managed to research their families and there is such a variety. Every family is different and requires different approaches which can offer hints to you for your own research. Thank you, Sue for editing the journal – it is an asset to the Society.
Re-Visiting your Research
Just recently, I have been taking a look at my own family tree and have been surprised to find more available online than when I last reviewed it. It really is worth investigating brickwalls again. One of the problems of brickwalls is that each time you look at them you are inclined to think along the same route. This is where another person looking at it may see something different and suggest alternative records to use. The Research Forum is the place to ask for help or to help others. By answering queries, I find that it often helps my research as well.
Queries from the Web Site
I also get queries sent directly to me via the web site. A new member asked where the Spread Eagle Hotel was in Weston as her ancestor had been the landlord at one time. I was particularly interested because I had found this Challenge in a Local Newspaper which mentioned the Spread Eagle in connection with a member of the HASE family. The race took place and William HASE won!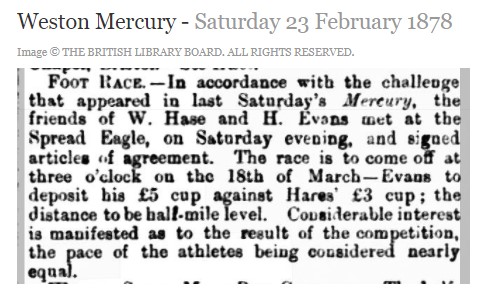 In the newspaper was also a list of residents and addresses which gave the address of the Spread Eagle at 37 Anstice Terrace (now Alexandra Parade) 2 doors west of Orchard Place but later documents give Meadow Street as the address for the Spread Eagle. However, The National Library of Scotland View map: OS town plan - Weston-super-Mare sheet IX.15.20 - Ordnance Survey Town Plans of England and Wales, 1840s-1890s (nls.uk) has a town plan of Weston-super-Mare which shows that this is the same building with probably entrances in both roads.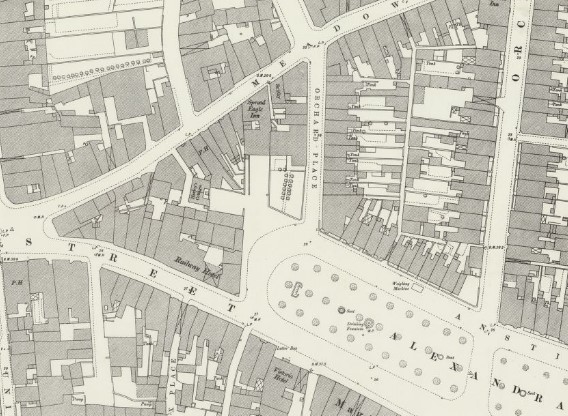 When the Free Help Sessions were running at the Library we used to quite a few enquiries wanting information about Public Houses, Schools and the Cemetery in Weston where connections had been found with their families. The same questions are asked now via the web-site. We do have information about the Cemetery available for members but not for Pubs and Schools - perhaps we should try to add these?
Olympics
During the London Olympics of 1908 a team had been chosen to swim the 4 x 200 metre Relay Race but at the last moment one was unable to swim so a member of the Water Polo team, Paul RADMILOVIC of Weston, was put in instead. After an eventful race they won Gold which was the last time a British team won that event until this year!
Free Resources Online
It is often difficult to find out where you can obtain information about the location of parish records in other parts of the country.
August
August has always been a holiday month and in the past we have not had meetings in August because people are doing other activities rather that researching. Perhaps they are visiting the haunts of their ancestors or in the fine weather search the unrecorded plans of churchyards hunting for graves. Coming back refreshed and eager to continue (or start) researching their families. This month will be different because the Society is planning an August Zoom meeting on Thursday August 19th at 7.00pm when member Anne Lockyer will be talking about Mercer v Puxton: The Folly of Litigation. which sounds fascinating.
August 19th is also our Diamond Wedding Anniversary so I might miss the actual talk - there are times when the living family takes precedence over any other activity - 60 years is something to celebrate! - but hopefully now I will be able to catch up via the recording afterwards.

3 Comments

login
or
join us now
to post comments
July 2021 Newsletter
published by Pat Hase on Fri, 02/07/2021 - 10:38
It's July - How do you find time for family history when there is Tennis, Cricket and Football to keep up with? Do any of our members have sports men or women in their ancestry? What sports or leisure time activities did they enjoy? Newspapers can give a glimpse of some of the events in which they took part.
Some examples of sporting activities from my own family:
Young Henry HASE, a boy on board the Training Ship Formidable coxed a gig in a race as part of the Bristol and West of England Regatta in 1872 reported in the Western Daily Press – they came 4th (out of four!).
His cousin, William HASE was a successful competitor running in several races in Weston – one a challenge over half a mile in 1878 watched by about 1,000 spectator which he won.
My father and his brothers played football and cricket in local teams in Bristol reported in local Bristol newspapers.
My mother and her sister played hockey, seen here at both ends of the front row, my mother in the left and her sister on the right. You are lucky if family photographs contain group photos such as this one.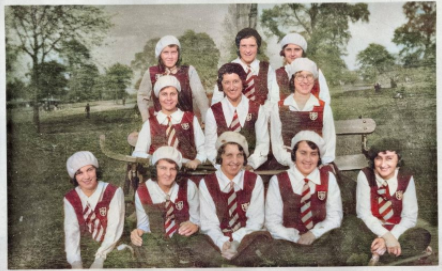 Society News
June Society Meeting - Scottish Family History - The Society is extremely sorry for the problem which caused the late start of the last Zoom Meeting.

We know that some members gave up waiting and so missed a very interesting and helpful talk about Scottish family history research by Peter Towey.

The talk was recorded, and arrangements are being made to have it available for full members on our web site.

You will be informed when all the recorded talks have been added to the site.
July Society Meeting - Old Photographs - The next Society meeting is on Thursday 15th July at 7.00 p.m. when the talk will be "

Identifying & Dating Old Photographs" by Steve Gill

.

Please make sure that your membership is up-to-date so that you receive notification about how to join this meeting.

Only full members receive emails with the necessary information to enable them to access what promises to be a valuable aid to our research.

Research Forum -

It is difficult to know whether members have responded to individual requests for help because the questioner might have been contacted directly but it does look as if the Research Forum is not attracting many queries or responses from our membership.

It is no good for me to ask "Why is this?" because I've asked that question so many times before with very little reaction.

Have you all finished researching?

I would like to thank the handful of members who have responded to my queries – It is so useful to have a second opinion when you are unsure of your interpretation of the facts.

Transcriptions -

Graham PAYNE is continuing to add to the Burials in Weston Cemetery and has nearly reached the year 2000. This is an incredibly useful part of our site.

After the Cemetery opened in 1856 churchyards in Weston were no longer available and although burials continued at Worle, Uphill and Kewstoke all burials whatever denomination took place at the Milton Road Cemetery.

Surname Interests -

During June I had correspondence from Australia that someone had identified a link to a family he was researching by using the family tree which I had posted under HASE in the Surname Interests on our site. In case you had forgotten there is a facility for you to add a tree in PDF format under your SURNAME Interests.

This can be very helpful.

Have you posted a tree or Pedigree?

I have just posted a Pedigree for my husband's great grandmother, Mary Ann HASE née NICHOLLS under Surname Interests of NICHOLLS and it has shown exactly where the gaps are in her tree.

Weston Worthies -

I am now reaching the end of this project which I have found really interesting and by concentrating on one individual, who was not part of my family, it has taken me into areas of research which have required different approaches and given an insight into life in Weston in the mid 19th Century.

Have you tried writing a profile for a great grandfather or another individual in your tree?

I'm sure it would make a fascinating article for Bucket and Spades.

Facebook Group -

This group does allow for immediate replies to queries and hopefully we can inspire new researchers. One discussion recently concerned how to get younger people involved and interested in family history. Another asked whether anyone had any evidence that

Haile Selassie had presented cups at the Girls' County School Swimming Gala in Weston during about 1936-38.

She had a family story that he had. Can any of our members help?

Publicity -

We had an article about the Society published in a supplement to the Weston Mercury in June which prompts me to enquire whether any members have connections with any other publication which might be prepared to include information about us?

The first issue of a Free Magazine, called "Local Reach" was delivered to me during June which aims to offer free of charge publicity to local clubs and societies.

Do you know of others?
Other items of Interest
New Book by Sharon Poole
Sharon has just informed me that her latest book about Weston has been published. Called "Weston-super-Mare: Georgian Watering-Place, Regency Resort" it deals with Weston in the late 18th Century when it was a select watering place and is about the place and the people who lived and visited here. It is available on Amazon as a paperback or Kindle or directly from her at £17.99. Weston-super-Mare: Georgian Watering-Place, Regency Resort: This is a time which is frequently overlooked when dealing with Weston – it is so often described as a "Victorian Town" as if it suddenly appeared with the railway. Sharon has carefully researched the period and those of you who have heard her talk about Georgian Weston will know that it will be full of interesting and sometimes surprising facts.
Long Lost Family
I have mentioned this programme before but a new series is due to start on Monday 5th July at 9.00p.m. Although designed as a moving entertainment programme it sometimes includes valuable hints for finding lost relatives and now-a-days DNA is extensively used. The first programme features two people searching for their birth mothers and to quote from their own publicity "As Long Lost Family and its popularity demonstrate year on year, knowing your roots and being in touch with your family is incredibly important. And with many viewers having been separated from their loved ones during the pandemic, this series remains immensely poignant and heart-warming."
Was your Ancestor on the Stage?
As a sea-side town, we often get asked about people who may have performed here as entertainers. STAR - Search for Theatrical AncestoRs gives some valuable tips for researching and the Bristol University Theatre Archives on the same site has a searchable database for their large collection of theatrical archives which does include some 20th century events in Weston-super-Mare.
England's Immigrants 1330-1550
Depending on how far back you have got with your research and possibly aided by DNA this website offers useful information and a searchable database of immigrants to this country before 1550. Although this part of Somerset does not seem to get a mention I know that many of you are researching lines from other parts of the country and the breakdown of the statistics gives a fresh look on immigration. The description of the sources used and their limitations is particularly important when accepting what this database has to offer.
Using Newspapers to Research
Although the Weston Mercury and Gazette are available on the British Newspaper Archive the earliest Weston paper is 1845 and they have not yet covered anything past 1909/10. However, do not restrict your search to the Weston Newspapers for news of Weston inhabitants. The Somerset and Bristol newspapers also often carry items concerning Weston as do papers from further afield. This is just one example of advertisements which can be found pre-1845 which give a view of life in Weston.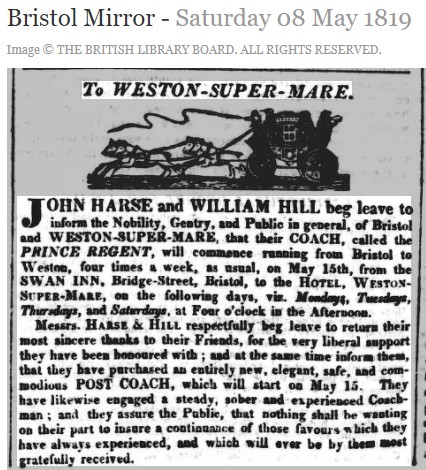 20 Questions to ask your Grandparents
This was published last autumn but it struck me that if you haven't got any grandparents to interview, these might serve as a guideline to ask yourself and to include when writing up your family history. They help to describe the life you have had and are living. These 20 Family History Questions may stimulate other memories to bring your history alive. But what do you really remember or do you think you remember what you have been told you did as a child? When elderly people are interviewed how accurate are their memories?
Each month I ask for you to add comments to the Newsletter and to share additional resources which you have found useful but rarely does anybody respond. Please let the committee know what sort of support you want from this society. The next edition of Buckets and Spades will be issued soon - make sure that you have renewed your membership this year in order to receive it.
Wishing you all every success with your researching and as the Archives hopefully begin to reopen and visits are available again check whether you have to make an appointment before arriving at an Archive.
Share your successes and frustrations with us - you never know how that brickwall will tumble.

8 Comments

login
or
join us now
to post comments
Forthcoming Events
Physical Members' Meeting
Wednesday, 8th December, 2021 14:30 - 17:00
Physical Members' Meeting
Wednesday, 12th January, 2022 14:30 - 17:00
Physical Members' Meeting
Wednesday, 9th March, 2022 14:30 - 17:00
Physical Members' Meeting
Wednesday, 13th April, 2022 14:30 - 17:00
Physical Members' Meeting
Wednesday, 11th May, 2022 14:30 - 17:00
<- View calendar for more