News & Information (Events)
Fun Palace Sat Oct 5th
published by Pat Hase on Sat, 28/09/2019 - 17:03
We will have a stand at this event and will try to encourage more people to take up this hobby. Why not join us?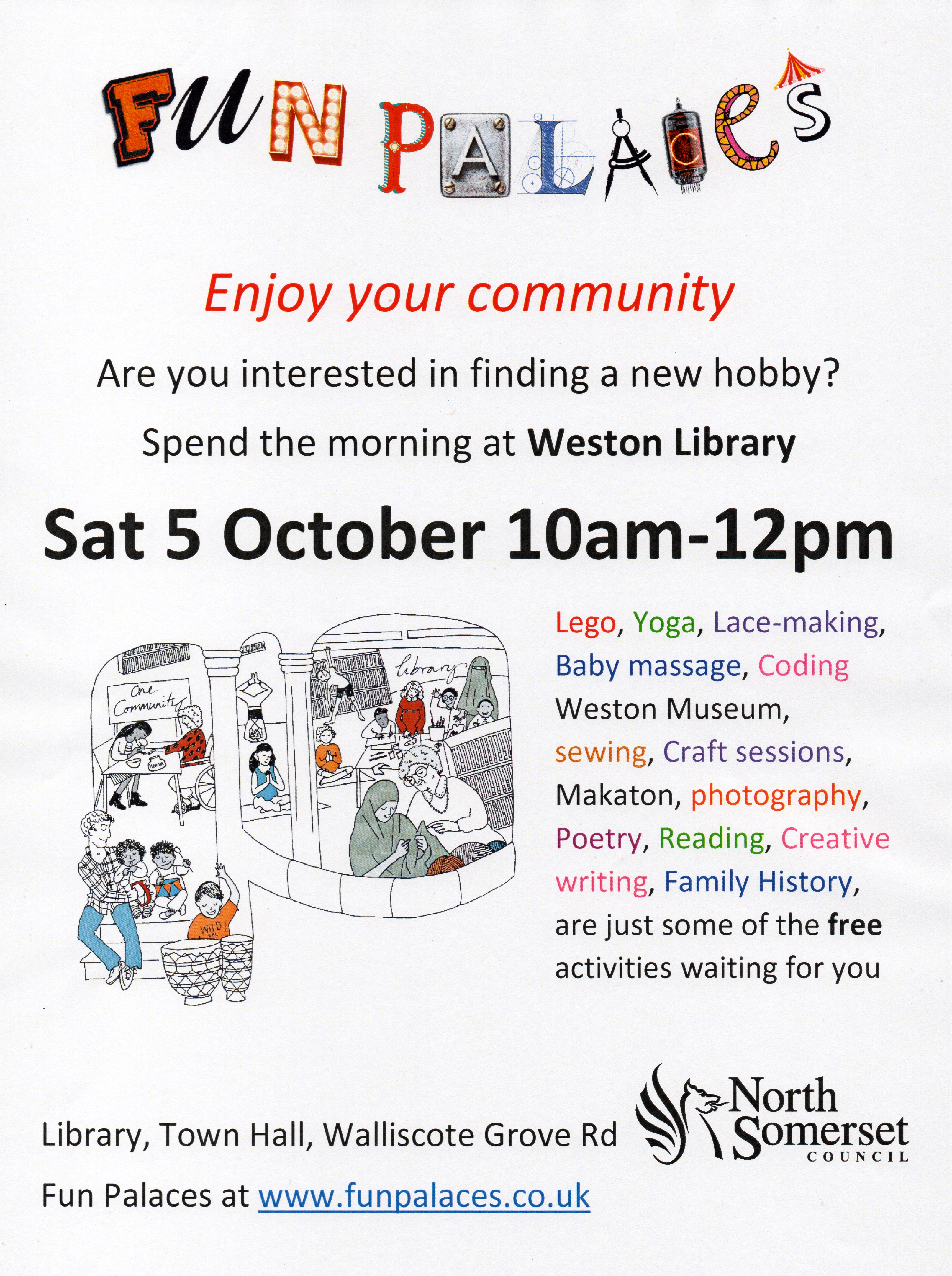 Pages of the Sea
published by Paul Tracey on Mon, 29/10/2018 - 14:09
PAGES OF THE SEA
https://www.pagesofthesea.org.uk

Film-maker Danny Boyle invites you to join him in marking 100 years since
Armistice and the end of the First World War. On 11 November 2018,
communities will gather on beaches across the UK to say goodbye and thank
you, to the millions of men and women who left their shores during the war,
many never to return.

In Weston-super-Mare, Theatre Orchard offers
A FREE WRITING WORKSHOP FOR ALL
Thursday 8 November, 3-5pm

Loves Café, Weston Street, Weston-super-Mare BS23 1JR

Please reserve your free space by emailing info@theatreorchard.org.uk as soon
as possible: there is a limited number of places on this workshop.

"The pages of history must never be wiped clean. One hundred years on, we
must remember. In this creative writing workshop, we will read and
appreciate some of the powerful writing that was produced in the 1914-18 War
and you will have the opportunity to write your own page in the sea of
remembrance in whichever way you think best."

Writers and experienced workshop leaders Bob Walton and Sue Hill present this
free public workshop which is open to all.

For further information about all the Pages of the Sea activities in Weston,
go to:
http://theatreorchard.org.uk/pages-of-the-sea/
Events in area
published by Brian Airey on Thu, 06/09/2018 - 12:51
The following has been sent to me for further circulation.
22nd September 2018 Somerset & Dorset FHS AGM and Open Day 10am to 4pm at Queen Elizabeth School Blandford Road Wimborne Minster, Dorset BH21 4DT The event is free and you do not have to be a member to attend.The key Speakers are Nick Barratt and Gill Blanchard. There is free parking.
The History and Heritage on the Levels Exhibition will take place in Othery Village Hall on the 26th and 27th October. 11am -5pm all free of charge. At 7pm on the Friday 26th October you can come and see internationally acclaimed genealogist ,historian Guild member and author Janet Few The History Interpreter talking about "The burning time" witchcraft in the 17th Century". Groups attending include Somerset and Dorset Family History Society, Guild of One Name Studies, The History Hut, North Curry Archives, Langport and District History Society, Somerset Western Front Association, Othery History Group, Middlezoy History Group, High Ham Parish Community Group , Westonzoyland Aviation Museum. No entry charge for exhibition or talk. We will have a raffle, refreshments for sale and a bar in the evening.
Library Help Sessions
published by Pat Hase on Tue, 15/05/2018 - 9:58
Worle, Portishead and Healthy Living Centre
The committee has decided with regret that the Library Help Sessions at the above locations will cease at the end of June. Unfortunately, the numbers attending at these locations no longer make them viable. We are willing to try again if sufficient people show interest.
Weston Library Help Sessions
These are continuing to be held from 2.00pm until 3.30pm each Saturday at the North Somerset Studies Library in Weston-super-Mare Town Hall. This library contains fiche of parish records for North Somerset, local newspapers on film, maps, street directories, Electoral Rolls and many other interesting local history books and files of information about people and places in the area including Brian Austin's Family Trees of local families. For those who are not researching local families we have free access to Ancestry and other useful sites via the Library's computers. You do not have to be a member to come to these sessions and benefit from the expertise of our volunteers.
FFHS Members - FFHS Every Ancestor Matters Conference
published by Brian Airey on Mon, 26/03/2018 - 15:59
MShed, Prince's Wharf, Wapping Road, Bristol, BS1 4RN Saturday 14th April 2018 The programme has been assembled to both broaden and deepen your understanding of the wonderfully diverse and absorbing interest we call 'Family History'. On Saturday 14th April you can expect to discover answers to many questions you don't yet know to ask! Intrigued? You should be! Are you enthusiastic to learn from acknowledged experts on the following research topics: Wills? British India? Gypsy Heritage? Adoption? ... and maybe much more? The FFHS Every Ancestor Matters Conference sessions at the Bristol M Shed on Saturday 14th April are designed to enlighten your understanding in such areas. Our programme will include talks by the following accomplished speakers: My Ancestor was in the Civil Registration – Well they should have been! - John Hanson Researching your tree when you're adopted: have you ever found your 'real' family? - Dr Penny Walters British Indian Civil Service and Records of its Servants - Peter Bailey My Ancestor was on the Census – Well they should have been!! - John Hanson Was your Ancestor a Gypsy? (also includes references to fairground + circus archives)- Beverley Walker Booking: Attendance at the Saturday 14th April session of the FFHS Every Ancestor Matters Conference is £39:50. Capacity is limited to 60, so Please Book Early to avoid disappointment https://www.eventbrite.com/e/ffhs-every-ancestor-matters-conference-bristol-tickets-42528771701
Visit of North Somerset Archivist
published by Pat Hase on Fri, 09/03/2018 - 19:43
The North Somerset Archivist's visit to Weston Library on Thursday 1st March was postponed, due to the weather. It has now been rearranged for Thursday 15th March. Please contact Somerset Archives and Local Studies with any queries or if you want any documents brought to Weston.