Research Forum
Payne Family
published by JulieAPayne on Sat, 24/07/2021 - 15:07
I am making a last attempt to find the birthplace of my x4 great grandfather John Payne born about 1774. He married Hannah Sarah Bailey in Bleadon in July 1798. Hannah was from the Parish but the record states he was from Blagdon Parish.
He married again in 1808, as a widower of Bleadon, to Mary Petheram.
Having searched all the Blagdon and nearby Parish records, I have not been able to match him with any likely parents.
He had two sets of children from his marriages so wondered if any of this information sounds familiar to other Members with Pain/Payne ancestors from Bleadon or Uphill.

2 Comments

login
or
join us now
to post comments
John HARRIS - Weston Worthy
published by Pat Hase on Fri, 23/07/2021 - 20:22
I have heard from the Somerset Archives that on the back of the portrait of John HARRIS is this writing. Does anyone know which Lodge this refers to and where Channel Road was?


4 Comments

login
or
join us now
to post comments
Walnut tree
published by conrad on Thu, 22/07/2021 - 10:52
Does anyone know where I can find a photograph of the original house or cottage where the walnut tree pub now stand
Thank you
Conrad

2 Comments

login
or
join us now
to post comments
Sarah Luffman BATT
published by daveerasmus on Fri, 16/07/2021 - 17:01
Sarah Luffman BATT was baptised at Congresbury on 13 December 1829. According to the baptism record she was the daughter of Mary BATT "Single woman".
Mary BATT married Edward PAIN at Wick St Lawrence on 31 March 1831 having previously been married (on 11 June 1816) to Susannah HERVEY who died in about December 1827.
At the time of the 1841 census Edward and Mary PAIN were living in Wick St Lawrence with a number of children from both of Edward's marriages. Also living with them was Sara PAIN (sic) aged 10.
Sarah Luffman BATT married Francis PARKER at Wick St Lawrence on 15 July 1850. She gave her father's name as George BATT. I have always harboured the suspicion that Edward PAIN was Sarah's father. A recent DNA match to a descendant of Edward's brother has given weight to this theory.
What has always intrigued me is where Sarah's middle name of Luffman came from. I can't find anyone of that name amongst the ancestors of either Edward PAIN or Mary BATT. There are a number of LUFFMANs living in Somerset at the time of the 1841 census (for example) but none with an obvious connection to Wick St Lawrence. Nor have I found any BMDs for a LUFFMAN there or nearby between 1700 and 1840.
Any thoughts or theories on the likely origin of the middle name of Luffman would be greatly appreciated.

7 Comments

login
or
join us now
to post comments
"Holder-On" occupation
published by Jude on Tue, 06/07/2021 - 16:35
Seeing Pat's request for more items in the research forum I am eager to know what a "Holder-On" was. Whilst researching my husband's maternal line, I found his Grandfather described as this in the 1901 Scotland Census.
ALEXANDER LECKIE born 14.3.1873 in Ireland was living with his parents ALEXANDER born 1837 Ireland and MARTHA born 1839 Ireland. His youngest sibling MINNIE was born 1887 in Greenock, Scotland where the family were living in 1901, whilst brother THOMAS was born in Ireland 1881. So, sometime between 1881 and1887 the family moved to Scotland. Unfortunately, the surname LECKIE seems to be common in Ireland, so the trail has gone cold.
In 1911 Census Scotland ALEXANDER Jnr. was still in Greenock but moved to South Wales between 1911 and 1916 when another daughter was born there. in the 1939 Register ALEXANDER Jnr. is recorded as a Retired Boilermaker in Penarth. I assume he was employed in the Clydebank shipyards prior to moving to S. Wales to continue in the shipyard there.
1. Is a "Holder-On" linked to shipbuilding?
2. How can I get further back in Ireland with such a common name and no other evidence of where in Ireland the LECKIE line originated?

3 Comments

login
or
join us now
to post comments
Who's who
published by conrad on Sun, 04/07/2021 - 19:08
Can anybody recognize anyone in this photograph it's supposedly take in WSM
and I think it may relate to my family
thank you so much
C Culliven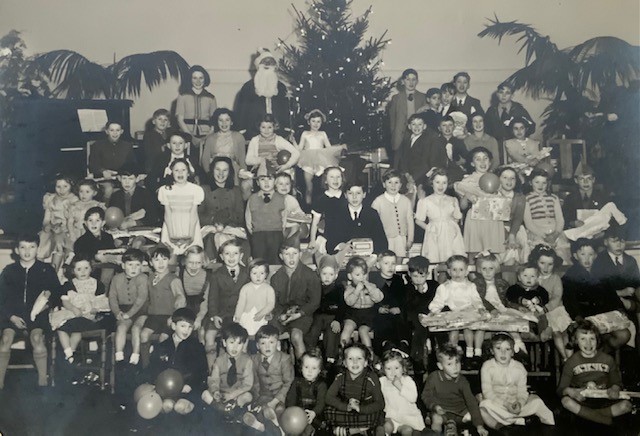 1 Comment

login
or
join us now
to post comments
Is your research stuck?
Use our research forum and
(If you are already a member please login (if not already logged in). If not why not join us now - see the link to the membership page.
Forthcoming Events
Society Committee Meeting
Monday, 7th February, 2022 10:00 - 12:00
Physical Members' Meeting
Wednesday, 9th February, 2022 14:30 - 17:00
Physical Members' Meeting
Wednesday, 9th March, 2022 14:30 - 17:00
Physical Members' Meeting
Wednesday, 13th April, 2022 14:30 - 17:00
Physical Members' Meeting
Wednesday, 11th May, 2022 14:30 - 17:00
<- View calendar for more