The Royal Hotel was mentioned in the recent comments about South Parade but perhaps it needs a query of its own. Who financed its building? who owned it? who ran it? and when?
The Somerset Heritage Centre has some documents DD/WY/14/85 referring to
Memoranda, minutes of evidence in the matter of the reference between Messrs Cox and Parsley; includes draft of lease for twenty-one years by William Cox of Brockley and Richard Parsley of Weston-super-Mare to James Needham, of the Hotel, Weston-super-Mare.
The Bristol Mirror of June 9th 1810, in an article about the Weston-super-Mare Inclosure states:
Second Attendance Meeting, for putting the said Acts into execution, on MONDAY, the 25th day JUNE next, at the dwelling-house of James Needham, known by the name of the Hotel, situate Weston-super-Mare.
Meetings continued to be held there throughout 1810
Several Bristol Newspapers of 1810
SEA BATHING. WESTON-SUPER-MARE, SOMERSETSHIRE 20 miles from Bristol, 30 ditto from Bath. JAMES NEEDHAM respectfully informs the Public, that he has fitted up the HOTEL with every convenience for the accommodation of large and small parties and families. A select Boarding Table - Neat Post Chaises. good Stabling, and lock-up Coach-houses. For bathing, and the salubrity of the air, Weston has received the decisive sanction of the first Medical Characters in Bath and Bristol.
When the Hotel closed (through lack of trade) in 1811 the contents were auctioned off - James Needham was obviously greatly in debt!
From the Bristol Mirror 27 April 1811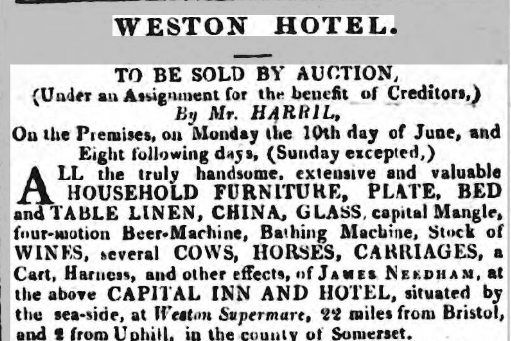 What was a four-motion Beer-Machine?
It wasn't until 1818 that Richard FRY from Clifton took over the Hotel. See Bristol Mirror 25th April 1818. What had happened there since 1811? There are advertisements which suggest it was still open as a venue for Auctions and as a staging Post for carriages from Bristol