Research Forum
My great grandmother - Sarah ELLY born Bath 1839
published by Pat Hase on Sun, 21/11/2021 - 0:58
I have just realised that I have never found Sarah on the 1841 census. Can anyone find her for me? She is reputed to have made the christening robe in which many of my family were christened including myself and two of my grandchildren.
She was born on the 4th June 1839 and registered as Sarah ELLEY, daughter of John & Elizabeth ELLEY formerly STEPHENS or STEVENS at 3, Mount Beacon Row, Walcot, Bath. When she was christened at St Swithin's Church Walcot on the 30th June 1839 their surname was entered as EALEY.
In 1851 they were still at 3 Mount Beacon Row entered as ELLY. So, where were they in June 1841?

1 Comment

login
or
join us now
to post comments
Baptist Church near Rowberrow
published by Pat Hase on Wed, 17/11/2021 - 23:20
I have had a query which asked if someone was a Baptist and lived in Rowberrow in the early 19th century - where was the nearest Baptist Church? Could it have been Cheddar, Burnham, Weston or somewhere else? I believe the Lynch Chapel in Winscombe may have originally been Baptist - can anyone confirm this?

3 Comments

login
or
join us now
to post comments
Army Lists
published by Sandra D on Sat, 02/10/2021 - 0:55
Hi Pat you mentioned Army Lists in the latest newsletter. What information is available?
I have a few ancestors who were possibly in the Militia who lived in Somerset. Many Thanks Sandra Davis

3 Comments

login
or
join us now
to post comments
Who did Samuel STOKES marry?
published by Pat Hase on Sun, 19/09/2021 - 0:36
My 2 x great grandfather Charles STOKES was christened in Wraxall on the 2nd Jan 1820, the son of Samuel and Elizabeth STOKES. Samuel was described as a labourer. I think that Samuel and Elizabeth could have been married at St James Church, Bristol on 23rd Oct 1815. They later had 3 children.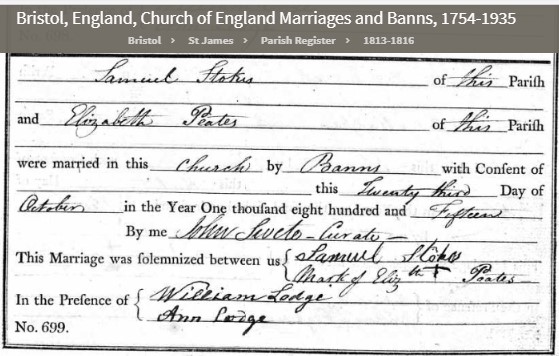 I haven't found the birth of an Elizabeth PEATES who fits the requirements to be the mother of Charles. Could she have been a widow?
There is a newspaper account which might have been her in the Bath Chronicle and Weekly Gazette Publication date: Thursday 05 August 1824 which has this entry
"Patients who have been discharged from Bath Hospital included: Elizabeth STOKES, Wraxall, Somerset, pain and weakness of her joints and limbs from rheumatism - much better"
I do have a death for Elizabeth STOKES in 1838, after which Samuel marries again. An Elizabeth STOKES was buried in Wraxall Churchyard 25 March 1838, aged 44 which suggests that she might have been born in about 1794. Can anyone find any information about Elizabeth PEATES?

4 Comments

login
or
join us now
to post comments
19 Broad Weir, Bristol
published by Pat Hase on Fri, 10/09/2021 - 12:42
This is the business card of my great great grandfather, Thomas LONG who lived and worked at 19 Broad Weir in Bristol. Inspired by a "House Through Time" I am looking at the history of this address which was one house in from the corner of Philadelphia Street.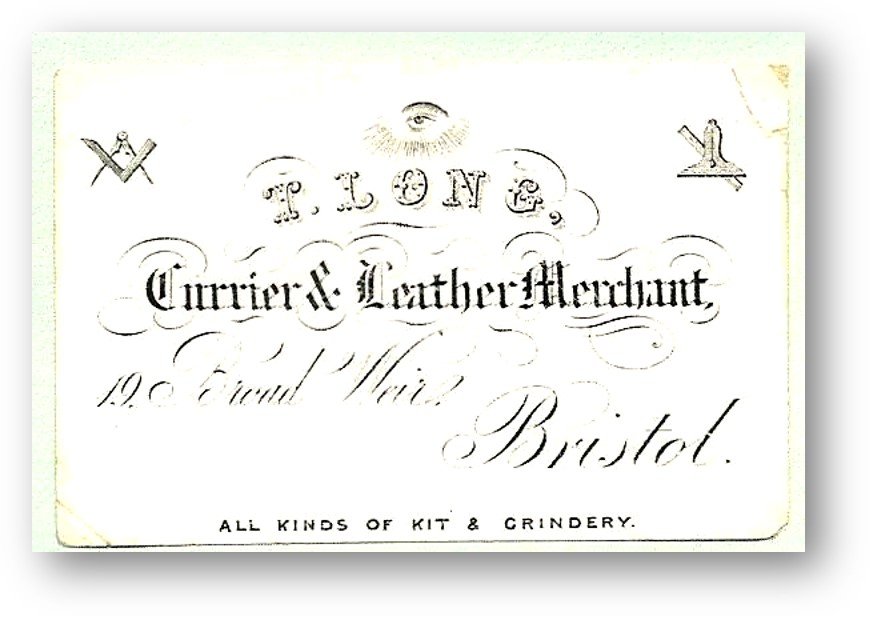 On the 1841 Census no house number is given for Thomas & Martha LONG but they were listed with the first son, Walter, as living in Broad Weir. In 1845, when my great grandfather, Samuel Thomas LONG was born his birth certificate states that he was born at 2 Broad Weir and on the 1851 census they are also listed at No 2 Broad Weir. My query is - did they move or was the road re-numbered?
In August 1942, 19 Broad Weir was destroyed by a bomb which fell on several buses parked outside causing a large number of deaths and in 1944 the then owners, Printers, Taylor Bros, gave a compete history of the house to the Bristol Archives. These date back to 1624 but it was existent before that. Thomas LONG did not own it - he was a tenant - but there are numerous newspaper accounts linking him to it as well as the births of his children and as my grandfather became a compositor he often spoke of Taylor Bros and the premises in Broad Weir which he remembered.
I know this is out of our area but we have many members with connections to Bristol and I wondered whether anyone else had researched this area of Bristol which is now between the Galleries and Cabot Circus.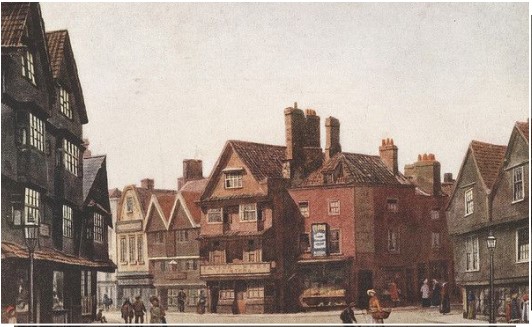 19 Broad Weir occupied by Taylor Bros (after 1875) Copyright - Bristol Libraries

5 Comments

login
or
join us now
to post comments
Pennant - Journal of the Nailsea Historical Society
published by Sandra D on Sat, 04/09/2021 - 5:53
I am a new member looking for an article in Pennant no 42 which is not on the NHS website on Lawrence King Harman and Moorfields House in Nailsea by Roger Smallwood. The reason being that my Grandmother had an association with Lady Geraldine King Harman and just trying to link up the dates. They were close in age and I wonder if they were friends? Any information might help. I do know that Lady Geraldine was in the Territorial Nursing force between 1914 and 1920. Many Thanks for any assistance.

2 Comments

login
or
join us now
to post comments
Is your research stuck?
Use our research forum and
(If you are already a member please login (if not already logged in). If not why not join us now - see the link to the membership page.
Forthcoming Events
Society Committee Meeting
Friday, 2nd September, 2022 10:00 - 12:00
Weston Library Help Sessions
Saturday, 3rd September, 2022 14:00 - 15:30
Physical Members' Meeting
Wednesday, 14th September, 2022 14:30 - 17:00
Workshop Session by Zoom
Wednesday, 5th October, 2022 19:30 - 21:00
Physical Members' Meeting
Wednesday, 12th October, 2022 14:30 - 17:00
<- View calendar for more