Release of 1921 Census
The biggest news in the last month has been the release date for the 1921 Census. It will answer a few queries you may have about your family and their lives just after the 1st World War and no doubt raise more questions. On January 6th 2022, Find My Past will give you access to the last census many of us will be able to interrogate. The 1931 census was destroyed and there was not a census in 1941 during WW2, which is why the 1939 Register has been so helpful. There are several interesting articles online with the background to the 1921 Census including this one from the National Archives which includes information about some webinars it is offering during November to assist your preparation for the release.
New items on Ancestry
During October these new items have appeared
100 Years of Education
The clocks were put back 1 hour last evening. and the autumn leaves are now falling from the trees, bringing back memories of School Days when as small children we collected the multi coloured leaves, pressed them and created collages, incidentally learning to identify trees from the leaves. The recent repeat of the BBC Programme "Back in Time for School" which is still available on iPlayer. featured the changes in education over the years. We have all had experience of some form of schooling and there were parts which made me want to shout at the TV. I went to a mixed Primary School, a Girls' Grammar School and then taught in a Secondary Modern School and there were aspects which did not fully match my experiences or memories of that time.
The development of the education provision in Weston is interesting with a large number of private boarding schools in the area. The first National School opened in Weston 1844/5 was St John's School, on the corner where the College is now, had these rules. The last one is particularly interesting in view of the current situation - this was against smallpox but was compulsory.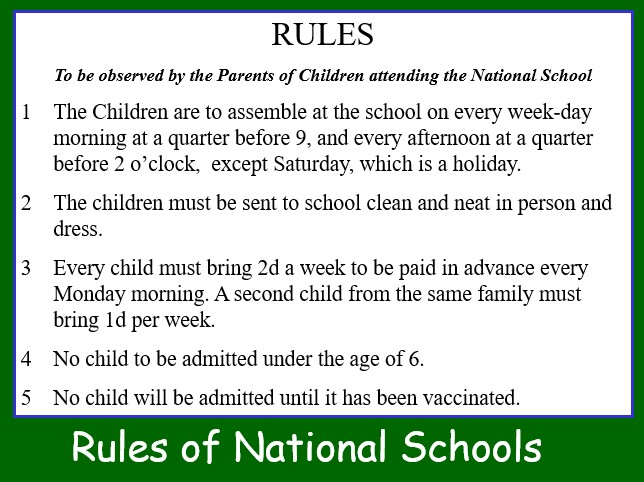 While on the subject of TV programmes - Last month I highlighted that "Who Do you think you are?" was returning to the screens, The Genealogist has some featured articles including some which are reviewing these and other programmes.
Local Scouts
I have temporary access to a brilliant Log Book of the Mendip Rovers which were the fore-runners of the 9th Weston-super-Mare Scouts attached to Emmanuel Church. This handwritten book goes from Sept 1927 until Sept 1943 and contains many local names. There were 4 Founder Members - L.HUMBY, E.ATKINSON, R.POPE and M.STOCKER with Mr R.E.MONK as their "Rover Mate". For many of their activities they were supported by "The College" Troop - 10th Weston under Mr N.G. PARTRIDGE. Their first Camp was at Max Mills Farm at Easter 1928 and they attended the opening of the Hospital in July 1928, acting a Stewards. By Sept 1929 they decided to become a Scout Troup with 2 Patrols - new members named after that included Eric KNOWLES, Reg GRIFFITHS, E.PHILLIPS, Henry ALLEN, J.HENDERSON, R. GARTH, R.WRIGHT, Warwick CASEY and D.WILLIAMS etc. If you have any connection with these or think you may have other links I would be pleased to search for names for you.
Another interesting item caught my eye that in 1940.
"two members of the troop helped St Paul's troop to gather Autumn Crocuses for the Government , cycling to Shipham where they found them growing wild in the fields"
On further investigation I found that large quantities of Meadow Saffron (Colchicum autumnale) bulbs were collected to provide the drug colchicine, used to reduce inflammation. With 12 tones of bulbs needed in WW2, collectors were instructed to gather them from pastures and meadows in which they grew when these were being ploughed up to grow crops.
With Remembrance Day approaching it was sobering to read of the death of Eric KNOWLES, who lost his life at sea while serving as a Ship's Engineer in the Merchant Navy.

The entries stop in 1943 and it appears that the troop was disbanded at that time although there is no actual mention of that.
Society Meetings
On Thursday 18th November we will be holding our AGM via Zoom which will be accompanied by a quiz and a short talk by me about the "Legacy to Weston from the JACKSON-BARSTOW Family".
This will be the last Zoom presentation, as actual meetings will start again at our new meeting place of Our Lady of Lourdes Church Hall in Baytree Road on the 2nd Wednesday afternoons of each month starting on Dec 8th from 2.30-5.00pm. This will be a Christmas Meeting with Ian Sage talking about "Farler's Coal Pit, Nailsea" and accompanied by seasonal refreshments.
Please add any comments you may have about this newsletter or to share helpful advice and information to other members.