We have been given a Family Bible in order to trace a member of the family it belonged to. It contains these inscriptions:

and this one: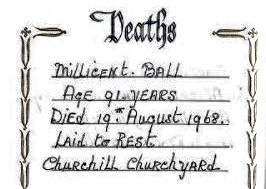 Albert MAY was born in Yatton in about 1908 and Edith's maiden name was RICKETTS They lived in Langford. There is a picture of their grave in Churchill with the MIs on our web site. Millicent BALL was unmarried and a Nurse - she was also born in Yatton but christened in Kingston Seymour. No MI for her.
If you recognise these people please let us know so that the Bible can be returned to the family. Thank you.