My 2 x great grandfather Charles STOKES was christened in Wraxall on the 2nd Jan 1820, the son of Samuel and Elizabeth STOKES. Samuel was described as a labourer. I think that Samuel and Elizabeth could have been married at St James Church, Bristol on 23rd Oct 1815. They later had 3 children.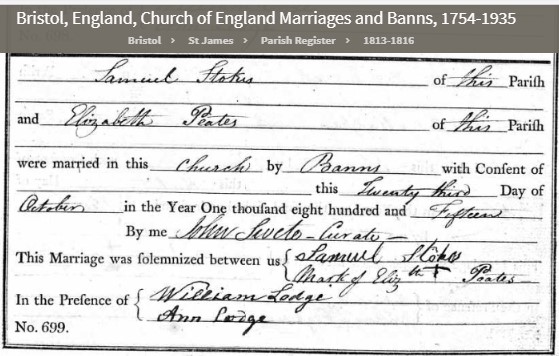 I haven't found the birth of an Elizabeth PEATES who fits the requirements to be the mother of Charles. Could she have been a widow?
There is a newspaper account which might have been her in the Bath Chronicle and Weekly Gazette Publication date: Thursday 05 August 1824 which has this entry
"Patients who have been discharged from Bath Hospital included: Elizabeth STOKES, Wraxall, Somerset, pain and weakness of her joints and limbs from rheumatism - much better"
I do have a death for Elizabeth STOKES in 1838, after which Samuel marries again. An Elizabeth STOKES was buried in Wraxall Churchyard 25 March 1838, aged 44 which suggests that she might have been born in about 1794. Can anyone find any information about Elizabeth PEATES?